Concerns in Your Community?
Learn How to File a Complaint
Communication from the public can provide valuable information to the grand jury. Anyone may ask the grand jury to conduct an investigation of any issue within its jurisdiction. By law, the proceedings of the grand jury are confidential. The ability to investigate a complaint may be affected by workload, resource limitations, or legal restrictions.
If a matter is within the legally permissible scope of its investigative powers and would warrant further inquiry, the grand jury may request additional information. If a matter does not fall within the grand jury's investigative authority, or the panel determines not to investigate a complaint further, no action will be taken.
Sacramento County Grand Jury and the Complaint Process Brochure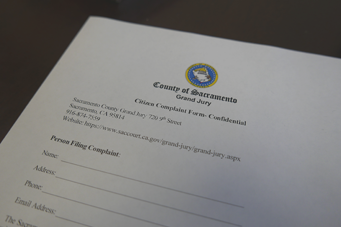 To File a Complaint:
Present your complaint as soon as possible;
Identify your specific concern and describe the circumstances as clearly and concisely as possible;
Document your complaint with copies of pertinent information and evidence in your possession.
The grand jury has no jurisdiction or authority to investigate federal or state agencies, the judiciary, or non-governmental organizations.
Grand Jury Complaint Form Instructions:
Print and complete the complaint form by clicking on the button below.
Handwritten and typed complaint forms are accepted.
Mail to:

Grand Jury Coordinator
720 9th Street, Room 219
Sacramento, CA 95814